</iframe>
Leslie H., Healer, Teacher, Speaker
I'm so pleased with my photos from Mariah! I was looking for a photographer who doesn't just know how to use a camera, but understands the nuances of branding, allowing your true self to shine forth and also making you feel comfortable in the process. Mariah really gets it. She helped me through the various stages of the process and made sure that she understood my vision and needs. She also checked in with me along the way to make sure that we were matching up with my desire and expectations. Mariah is very smart about branding and included many shots that I wouldn't have even thought of but now I'm so glad that I have as we're integrating them into our marketing materials. Also, her studio is amazing and felt like the perfect backdrop for a variety of different shots. The photos were promptly available after the session and Mariah is always very responsive and communicative. I recommend her highly.
Joanna Z., Coach, Speaker, Photographer
My brand is so personal to me. It is an extension of who I am because as a coach and trainer I must lead others by the way I show up and body language is everything! Mariah's understanding of this is the equivalent to having a photographer, coach, and marketing expert on set with you - priceless for your business!
I've been photographed throughout the years by various photographers and none came even close to capturing what Mariah created in my branding images. They are completely congruent with me and what my brand is! I've never been happier or more proud to release these photographs in my marketing.
Hosting my retreat in her studio and getting LIVE images was the cherry on top. I not only captured the event for future marketing, but also as a surprise to my attendees as a way to relive our experiences at the retreat. The workshop package is exactly what I need for my events and will now regularly book them with Mariah. I have a fully branded package for everything I do all in one shoot! So convenient for the busy entrepreneur!
Sara P., Author, Nutrition Therapist, Speaker
Mariah has taken both our family portraits (dog and kids included!) and recently just completed my branding portraits for a new website. Words cannot convey her professionalism, expertise, fun and caring demeanor. I felt so at ease! Sometimes getting your picture taken can be nerve-wracking. BUT NOT WITH MARIAH! And, the results?! INCREDIBLE! I am over the moon happy and in love with all our pictures from Mariah. SHE IS THE BEST! Thank you, Mariah!
Joe W., Speaker, Leader
The most important thing I wanted to show about our business or our brand is that it is one of 'people'...I wanted that human light and spark to come out. So hopefully the humans that are attracted to that spark would be just the right humans in the world for us to work with long term.
I would absolutely recommend this experience 1000%, this was one of the best investments of time and money we've ever had. Mariah directed us, got us in the right state, and basically took care of everything so we didn't have to worry about posing, or expression, or even which outfit to wear.
This session was not just great for our business, but great thing for us as a couple, great for our future clients to see how we conduct our business and present ourselves. This was so much fun, above all else! I was a little nervous about how we were going to pose and what we were going to have to do, but the direction was so flawless and seamless. As you saw from the results, it was impeccable. Thank you so much. Thank you so much for showing our real selves, and my wife's beauty. You saw in her what I see in her.
If someone is on the fence about a workshop/personal branding session I would tell them DO IT. Because you're probably going to be sitting in the same place you are now a year from now. The only difference is you'll be a year further. Just do it. If you're thinking about it, just do it, now is the time. That's proof.
For us it was last minute, but thinking "we should do a photo shoot. I should lose 20lbs, I should have my hair and make up done. And really, none of that matters. And if we had waited another year, I'd just have been another year older. You might as well grasp this opportunity while you can. And that's what anyone who is on the fence should do, just go for it!

We loved the immediate reveal after the workshop. We've never worked with anyone that did it the same day. I loved that! It was so cool to have it done live, while we're still here. The (images) are such a great representation of our brand. Thank you! WOW! Thank you so much for everything.


Jesse H.
Mariah makes getting a professional headshot quick and painless. Having worked with various photographers over the years she really knows how to help you feel at ease and build rapport with you to quickly capture your genuine expression and smile.
Jenna D.
Mariah is amazing! I felt so comfortable in front of her camera which is usually not the case for me! She is very specific with her directions and I really appreciated that. The photos exceeded my expectations. I can't say enough good things about her studio, it is SO unique and beautiful there is nothing like it. Would send any family or friends her way!
Charis C.
I am painfully awkward and goofy in front of a camera. As an independent fitness instructor, however, it's important that I have lots of flattering images for my website and other marketing materials. Mariah immediately made me feel at ease; she is funny, professional, and most importantly very detailed about how she wanted me to pose. I never know what to do with my hands or how to smile, and she directed every single position in every single picture down to the tilt of my chin. Her assertiveness helped me to relax by giving me something to focus on. I also was confident that she was very good at what she did, and the pictures she produced confirmed that. I cannot recommend her enough.
Kirstin P.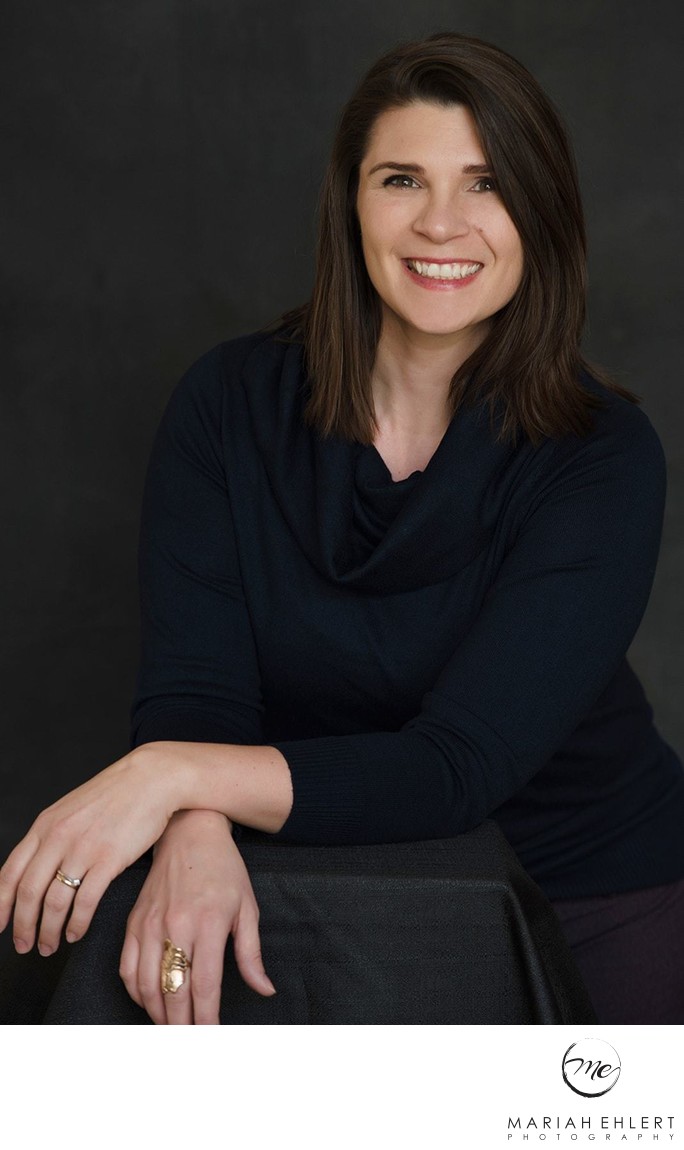 Mariah is a wonderful photographer and consummate professional. She is fun, energetic, easy to work with and takes beautiful pictures. She took photos of our family for the holidays and worked both with young children/toddlers and adults. Everyone was comfortable in her care, and she has a way about her that puts you at ease and takes the stress out of picture-taking. Her guided directions regarding lighting, stance, and positioning were professional and helpful. And the pictures turned out wonderfully! Everyone looked so happy and natural. If you are looking for a photographer, I strongly recommend Mariah Ehlert.
Marthe D.
Mariah is fabulous to work with, she clearly loves what she does and has fun doing it! She photographed my family, which included my 3.5-year old and 20-month old daughters. She was quick to capture those spontaneous, candid moments with the girls that have become my favorite (basically them on the run). Thankfully she was well prepared to work with toddlers. It was greatly appreciated that she offered some guidance on outfit choices to help make the photos look cohesive. And with her coaching I had one of the best individual photos of me taken since my wedding - many thanks! I'm going to remember those tips in future photographs.
Barb B.
Having someone take your picture(s) can be nerve racking, intimidating and overwhelming. However, Mariah has such a warm and comforting presence I almost forgot what we were there for! We met at the Denver Botanic Gardens. Took a few minutes to talk and figure out what I wanted from the photo session and then we explored the grounds taking pictures in a natural and beautiful setting. When Mariah sent me the pictures from our time together I was thrilled. Just what I was looking for! I can't recommend Mariah enough for your photo needs.
Donna E.
[The session was] one of the best experiences I've had being in front of the camera. Mariah provided a professional, knowledgeable, and fun experience that typically is a disaster for me.
Carol C.
I have always frozen in front of a camera. Mariah made it fun and caught the wealth of emotion between mother/daughter and grandma. It was a fun and beautiful experience! and now I have photos to prove it happened!!
Colleen C.
I thoroughly enjoyed my photo session with Mariah. I was having a bad day before my photoshoot, but Mariah and her makeup/hairstylist made my day so much better. My photos came out lovely and I received numerous compliments on them.
Noelle D.
Mariah and her photography have been an integral part of the birth of my first child. When I asked Mariah to document my pregnancy and birth, I was thinking about the finished product- the photos. On that front, she delivered more beautiful and touching images than I ever could have imagined. My husband, daughter, and I will treasure them forever. But working with her was so much more. Throughout the entire process she shared my excitement and anticipation and was a supportive voice and dear friend. I would highly recommend her work to anyone looking for family photos.
Tara C.
Mariah is such a pleasure to work with! She is a professional and provides top notch work. Mariah takes time to get to know you so your personality comes through appropriately. e shoot was fun because Mariah put me at ease and didn't over complicate the situation. thanks Mariah, I have high quality head shots for my professional portfolio now!
Jackie D.
I was blown away by the photos Mariah took of our family and especially our little guy (9 months at the time). Mariah is a wonderful photographer. Her work is unique and she made the photo shoot very relaxed and fun. Her patience while working with our son and our dog was great, we never felt rushed. I'd highly recommend her to anyone looking to have family photos done, especially with little ones.
Nicole L.
Thank you for the wonderful experience I had during my photo shoot and to thank you for the beautiful memories I will experience every time I view the photos that were taken. You understood exactly what I was hoping to capture and were so patient with me...that I feel like we obtained exactly the look and the emotion behind the shots I was looking for. I feel as if the idea I want to convey is captured in every single shot! The shots you took will look great on my website, hanging on the walls at my training center, and on the wall of my home too.
Copyright © 2020. Denver Photographer Mariah Ehlert - 720-507-6883 - me@mariahphotography.com - Privacy - Terms of Use